'Well that's going to be a bit boring,' comes the quick reply from a local wine executive when I ask how his work has changed during COVID. 'What would I be doing if COVID didn't happen? Going to work. What am I doing now we are living with COVID? Going to work!'
Smartie pants! (Note to self: get better at framing interview questions.) Technically, what he's saying is true: there's still plenty of work to do in our 'essential' industry. The vines don't stop growing, the wines still need to be cared for, our cellar doors are mostly back open and we still need to get our wine out to people all over the world. But for our local wine community, the form of that work in 2020 is in some cases vastly different than it would usually be.
Vintage time, when all the grapes are being harvested and wines made, is relentlessly hectic. It's all-hands-on-deck to make the best wine possible from the grapegrowers' yearly toils. Once the last fruit's been picked and the year's income tallied, grapegrowers and contractors can enjoy a few moments of semi-relaxation. All the harvest machinery is cleaned and stripped down, cover crops are sown in the mid-rows, sheep are redeployed on mowing duty, trellis maintenance jobs are ticked off and the irrigation gets shut down. Then pruning starts in earnest and the seasons roll on.
Winemakers look back at their vintage creations, allocating wine and blends, making sure the reds are safely tucked away and perhaps bottling whites or previous vintages. Everything is cleaned and then cleaned again, and staff take a few days in lieu to reacquaint themselves with their loved ones. The bean counters take stock and prepare the budgets.
As a comparative quiet falls over the wine community locally, in a normal world, this is when the job of storytelling really kicks into gear. Work shirts are shelved in favour of branded dress shirts and we all board planes. We sell our wares from deepest China to the restaurant next door. Hosting dinners. Running tastings. Attending events. And pouring, pouring, pouring.
But not this year. This year things are very different. We're all living an alternate reality.
D'Arenberg's flamboyant winemaker Chester Osborn has a bag of tricks he's been dragging around the world for years. It's stuffed to the brim with props that represent his myriad of wine labels. Think a fake dead arm, a lucky lizard stuffed toy, some rose-tinted glasses and a small pixie. This year the suitcase is gathering dust under his desk, only to be pulled out for the odd Zoom tasting.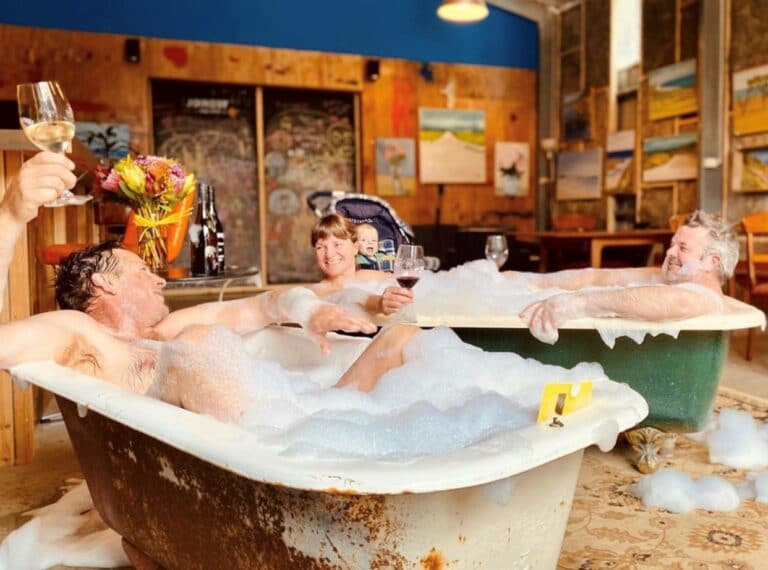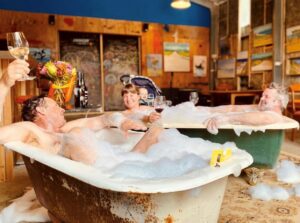 By now Mark McCarthy from McCarthy Orchards is usually grafting vines in the eastern states. This year his creative new social media project @bathtimebevvieswithmacca has taken off, so he'll be
packing up the camper trailer (including two baths!) and heading west to graft in Margaret River instead.
'We are cleaning!' exclaims Hotel California and Inkwell Wines proprietors Irina and Dudley Brown. With more local guests staying for shorter periods, and the new cellar door restrictions, the cleaning of glasses, surfaces and linen has grown exponentially. Fortuitously, stranded international workers were able to be deployed to handweed thirty acres of vines, ' … did we mention cleaning?!'
Artisan wine producer James Hamilton from Golden Child Wines would have snuck in a family holiday to somewhere warm with surf, in and around the many interstate sales trips. Instead, he's spending time building online sales for his small business and upping the trips to local surf breaks.
Jeremy Maxwell is 'not flying around the country and world like a blue-arsed fly.' (Note to self: where does this most excellent saying come from?) Rather, he and the Maxwell Wines team have used the restrictions to refine their restaurant tasting menu and develop high-end tasting experiences in cellar door. Velvet Oakes has done likewise at Coriole, developing a new seated wine experience in the original Coriole homestead, a space with phenomenal views overlooking the vineyards and Willunga Hills.
Wirra Wirra's chief winemaker Paul Smith was supposed to be at a friend's wedding in Puglia, Italy and was using that as an excuse to explore some of Italy's great wine regions while celebrating a significant birthday. 'Travel restrictions saw that revert to a mini-Fieurieu escape instead,' he says. 'We still managed to get a taste of Italy through some of the wines we drank – mixed in among our favourite local drops – without the challenges of airports, jet lag and language barriers.'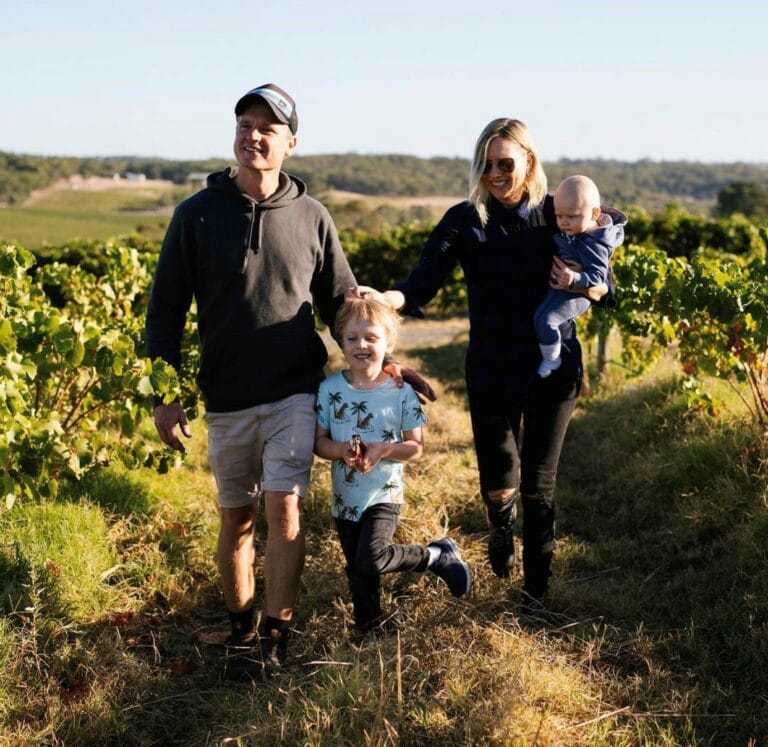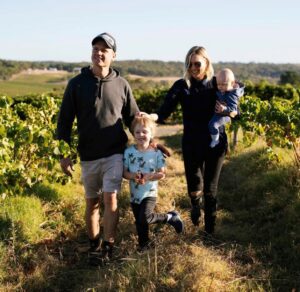 For many, the travel moratorium and restrictions on gatherings has created space to focus on building projects at home. Dynamic duo Selina Kelly and Andre Bondar from Bondar wines would normally be prepping for their massive annual open day over the June long weekend. Instead, they're focusing on their next very exciting project – building a small winery on their Chalk Hill Road vineyard.
Langhorne Creek's energetic winemaking sisters Rebecca and Lucy Willson from Bremerton Wines have found it quite calming to look at their wall calendar and see all the crossed-out entries, redirecting their energy into cellar door building developments. Bernice Ong and Julian Forwood of Ministry of Clouds wines are putting the finishing touches on their new winery and tasting room, as well as getting in touch with their 'super patient and slightly neglected' direct customers.
My colleagues in the Oliver's Taranga vineyard – Don, Tom, Aaron and Dan -don't reckon much has changed for them. They each have their own designated tractor, and they're still cross they didn't get an end-of-vintage party.
The smartie pants wine executive is right, of course. Many of us in the wine community are still at work, and lucky to be so. But it's a different type of work this year and one can't help but wonder whether parts of this alternate reality will stay for good.
Find the whole article in the 2020 Winter Fleurieu Living Magazine.