Oliver's Taranga are excited to be part of the McLaren Vale Tree Trail initiative. We have five amazing trees as part of our trail and we look forward to installing our signs. All of these great projects ensure we are a taking the right steps in sustainability whilst still be a tourist destination.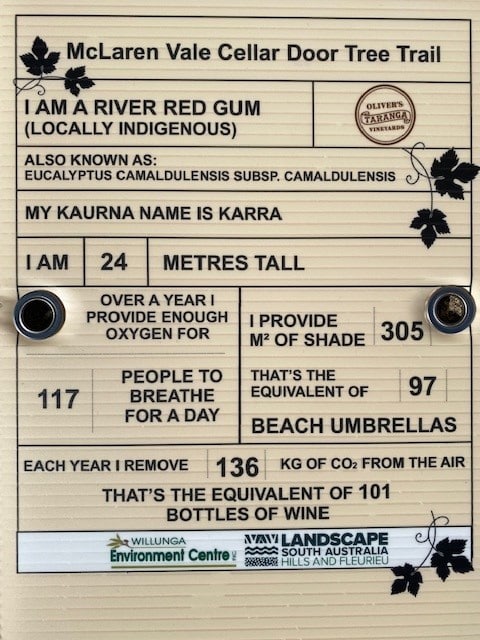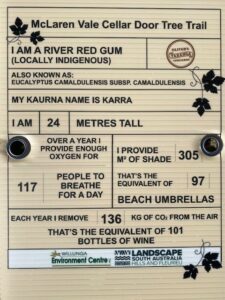 Some fun facts on one of our River Red Gums
Media Release – Tuesday 24th August
14 cellar Door staff and volunteers from the Willunga Environment Centre have participated in a project where 54 trees have been "measured" (using inclinometers and special tapes) to give specific data about each tree. Such data includes how much oxygen it provides, how much CO2 is removed (in wine bottle capacity), how much shade (beach umbrellas,) specific names of the trees, the height of the tree etc.
This data, after being modelled, is then presented on "tags" which are placed on or near each tree. A brochure has also been produced for the public to access on websites or at Cellar Doors. Activity Sheets are being prepared by Cellar Doors for children and families to work on while at the Cellar Door.
The project has been funded by the Hills and Fleurieu Landscape Board Grass Roots program and the Cellar Doors themselves.
Similar tree trails have been established by the Willunga Environment Centre in Willunga and Kangarilla.
The Launch of this project was held on Tuesday 24th August at Wirra Wirra Vineyards 255 Strout Road McLaren Vale 5171. At the launch each Cellar Door was presented with their tags and also copies of the brochure and website information. A ribbon was cut on one of the "tagged" Wirra trees by special guests.
A section of the application for the project reads: " Our interest in this project is that it offers a unique opportunity to raise awareness of just how important trees are to sustaining life, in a novel and captivating way. We also appreciate how the project will contribute to existing positive relationships between business (The McLaren Vale Biodiversity program and the McLaren Vale Grape Wine and Tourist Association {MVGWTA}) and the community on environmental issues"
Participating Cellar Doors
Kay Brothers Winery Paxton Wines Chapel Hill Gemtree Wines Wirra Wirra Vineyards Coriole Vineyards Dog Ridge Swell Brewery Camwell Wines Samson Tall Wines Shottesbrooke Winery Oliver's Taranga Vineyards Chalk Hill Wines Pizzateca
For more information, please contact Jenny Woodley Project Team Leader and Secretary of the Willunga Environment Centre Management Committee on the Centre phone 85564188 or via the Centre email info@willungaenviro.org.au