TINGELLA WALKING TRAIL
Experience Kuipto forest with a hike along 'The Tingella Trail'. This circuit is 12km of undulation through this stunning wooded area. Hikers, horseriders and mountain bikers alike can enjoy the fresh air and potent 'pine' aroma.
If you are lucky enough to hike during mushroom season, you can forage for your own or at least search for some fairies under the infamous red toadstools (Amanita Muscaria).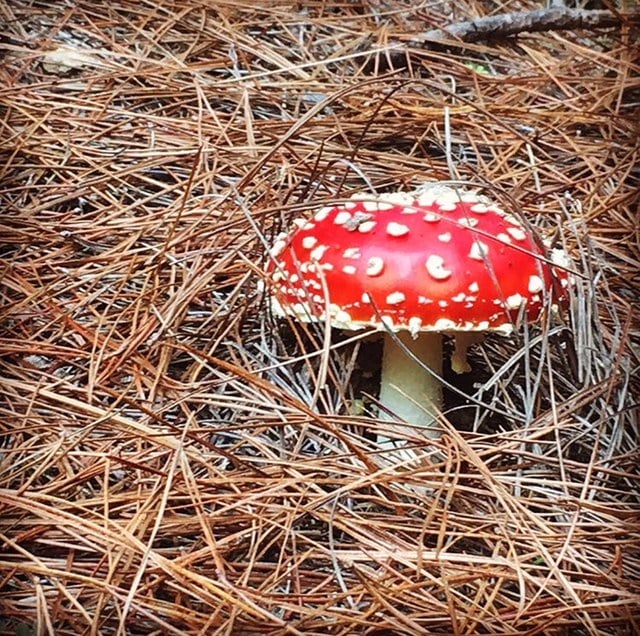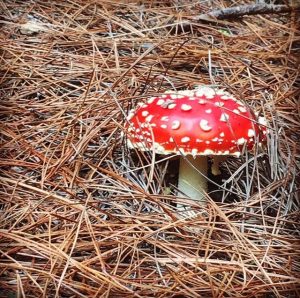 TIMBERNOOK SA
TimberNook SA is fortunate to be based in the heart of McLaren Vale at the picturesque Girl Guides SA Douglas Scrub campsite. This secure 26 hectare property, full of wonder and possibility for children, provides a diverse environment for exploration. Here, as well as engaging in full-body sensory experiences, children will be provided with extensive opportunities for free-play. There is a creek to explore, marshmallows to roast over the fire, and if they are lucky, they may even spot the resident echidnas, kangaroos, birds, and butterflies.
Elissa the Timbernook SA host is a mother of two young boys, aged 1 and 4, is a qualified early childhood educator, and holds a PhD in the field of Conservation Psychology. As a lecturer in psychology, she has been the recipient of national teaching awards and has worked for the past 10 years on projects focused upon biodiversity conservation, environmental education, and connecting with nature. Check out their different programs and get amongst it.
> 216 Douglas Gully Rd, Blewitt Springs SA 5171
https://natureplaysa.org.au/sub-events/timbernook-october-school-holiday-programs/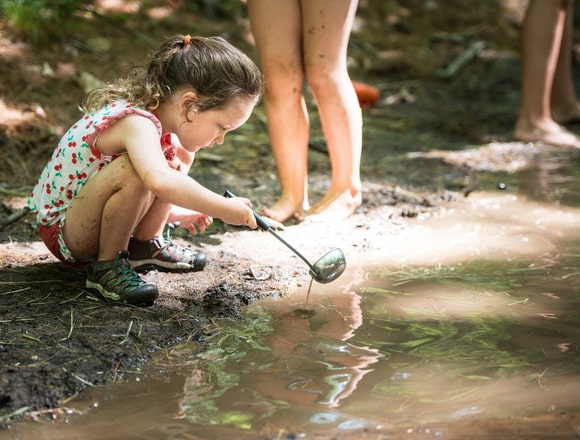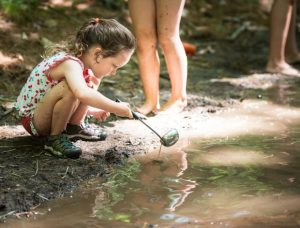 SOUTH COAST HELICOPTERS
South Coast Helicopters is a proudly South Australian family owned and operated business, who specialise in creating unique heli-tourism experiences.
Regardless of your choice of destination the sheer convenience and luxury of travelling by helicopter adds an unforgettable third dimension to any adventure.
Located on the outskirts of the historic township of Strathalbyn, their base is less than an hour's drive from Adelaide. It's the ideal launching spot to cover the Fleurieu Peninsula, Kangaroo Island, the Coorong, River Murray and the wine regions of McLaren Vale, Langhorne Creek and Adelaide Hills.
www.southcoasthelicopters.com.au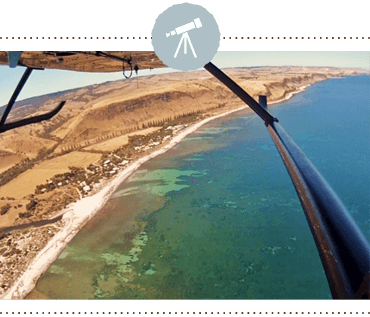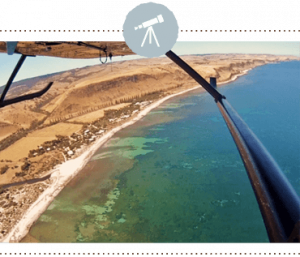 ADVENTURE KAYAKING SA
Spectacular beaches , coastal cliffs, sea caves, seals… a great sea kayaking adventure awaits!
The tour begins at Rapid Bay on the lower Fleurieu Peninsula, where the rugged coastline boasts spectacular towering cliffs and crystal clear water. After meeting on the beach and running through procedures, you'll soon be paddling to secluded beaches and mysterious sea caves. It's here where you can meet the "locals"; a growing colony of seals that are always keen to make new friends.
The team at Adventure Kayaking SA provide the 1 or 2 person sea kayaks which are very stable and easy to use, comfortable buoyancy vests and friendly guidance that will make the experience both safe and great fun.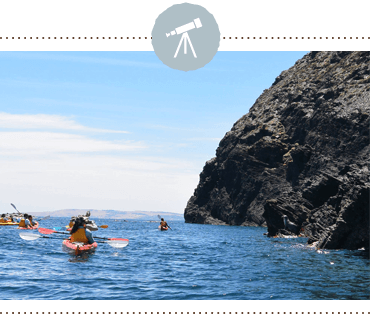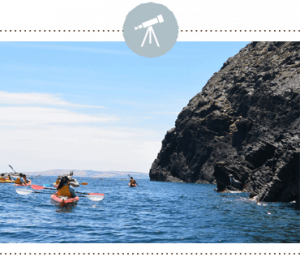 SUP DOWN SOUTH
It's all the craze and if you don't have your own board, hire a SUP Down South stand-up paddle board on the beaches of Port Willunga and Aldinga. With a minimal hourly hire charge and no car transportation needed, it really doesn't get any better.
Located at some of the best beaches in the world, the relaxation and tranquility cannot be rivalled.
Warning! Beautiful dolphins quite often make an appearance to add to this experience.
Stay in the loop with SUP Down South facebook for hiring details. Often they host events including beach yoga and paddle board combined mornings.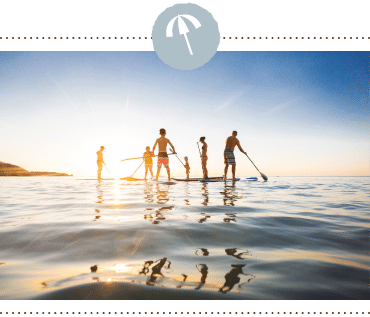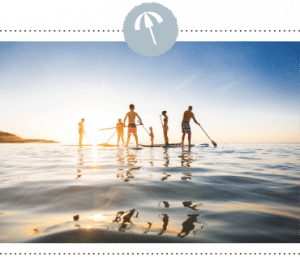 THE HEYSEN TRAIL
The Friends of the Heysen Trail is a comprehensive and informative website complete with Southern and Northern Guidebooks plus Topographical Section maps available to purchase.
Complete with walking events, facilities/accommodation and drinking water stops along the way, your trail hiking planning is a breeze.
Check out the website and books available for purchase…. and get your walking poles out!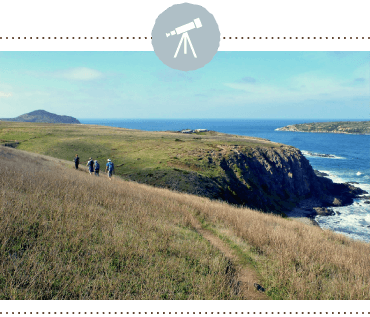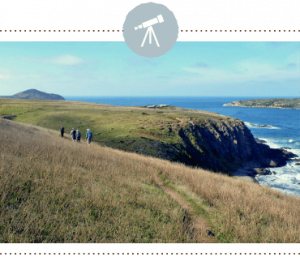 ARCHERY PARK
Archery Park is devoted to all forms of archery as a recreation and pastime for the whole family. Gone are fibreglass bows and arrows and boring targets.
Now the latest compound bows and carbon arrows make instruction and use simple. After a short familiarisation, you will safely and accurately negotiate over one of three-field courses. You will wander through 44 acres of natural bush, following established tracks. Over 90 targets await you, varying in size from wild buffalo to fox or rabbit. Your own skill will decide the distance you are required to shoot.
It's easy. All ages from five to 80 can have a go. They cater for the beginner through to the advanced archer. As a bonus you will enjoy views over the gulf and McLaren Vale, more than 200 species of native flora, an abundance of wildlife including the elusive koala.
203 Piggott Range Road, Clarendon
08 8383 6448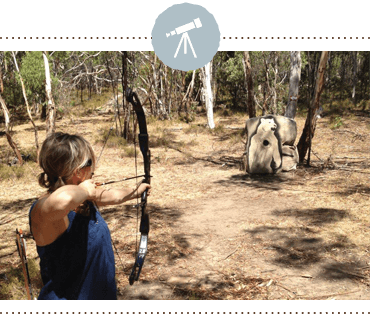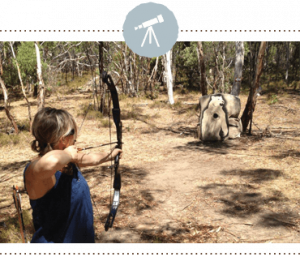 MCLAREN VALE MOTORCYCLE TOURS
McLaren Vale Motorcycle Tours offer tours on Harley Davidson motorbikes, tailored to the individual. Scenic rides, winery tours, weddings & special occasions can all be embraced on the freedom of a Harley Davidson two wheeler.
Decide where you want go with the brilliant tour suggestions. Lap up the amazing scenery of our Fleurieu Peninsula whilst relaxing in an armchair type experience on these beautiful machines. Don't hesitate, book a day out today!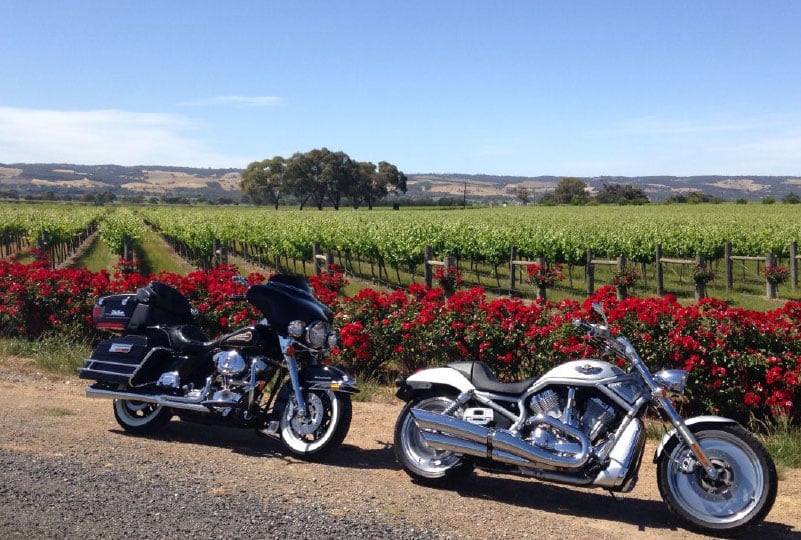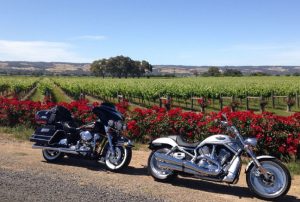 RAPTOR DOMAIN – IN FLIGHT BIRDS OF PREY
Don't miss the opportunity to see the 'In Flight Birds of Prey' show which is the only display of its kind in South Australia. Meet an array of birds including Wedge Tail Eagles, Magpies, Laughing Kookaburras and my favourite 'Casper' the friendly Barn Owl.
All birds have been injured or orphaned. Those that are not suitable for release are trained and lovingly become part of the show.
The hour long show is entertaining, educational and shows the genuine love all of the presenters have for these birds.
Well worth the trip…and you can always add on an extra show like the 'Venom Pit.'
A definite highlight on Kangaroo Island.
kangarooislandbirdsofprey.com.au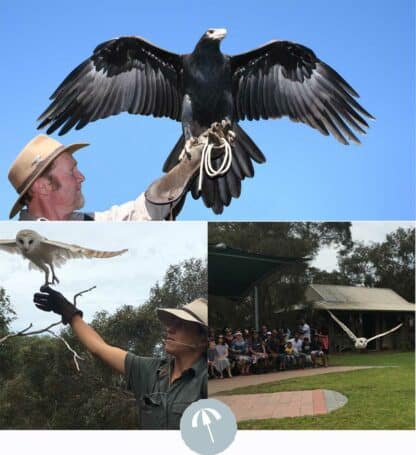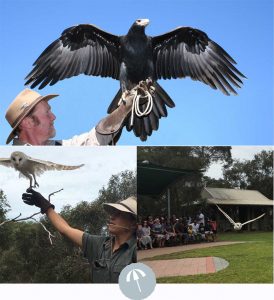 3 HOUR SUNSET TOUR ON THE COORONG
Join family and friends for a peaceful kayak to the Murray Mouth. After a leisurely stroll around the Sand Dunes enjoy a picnic of local cheeses, seasonal fruit platter and beverages, overlooking the spectacular scenery that the Coorong has to offer. A short kayak trip back as the sun sets is the perfect end for your Coorong experience.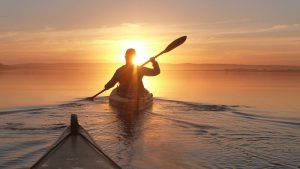 BOTANISTA SA
Botanista is a beautiful shopping destination for boutique teas and plants, in the heart of Port Noarlunga. Check out some of the fantastic workshops coming up this Autumn to create your own succulents terrariums, macramé hangers and much more. Alternatively, check out the terrarium bar stocked with over 100 beautiful plants and various different container sizes for your creations. The bar is always open so no need to book, just pop in!
— Click here for workshops
— Shop 1, 18 Gawler St, Port Noarlunga SA
— P: 0405 109 685
— www.fleurieugifts.com.au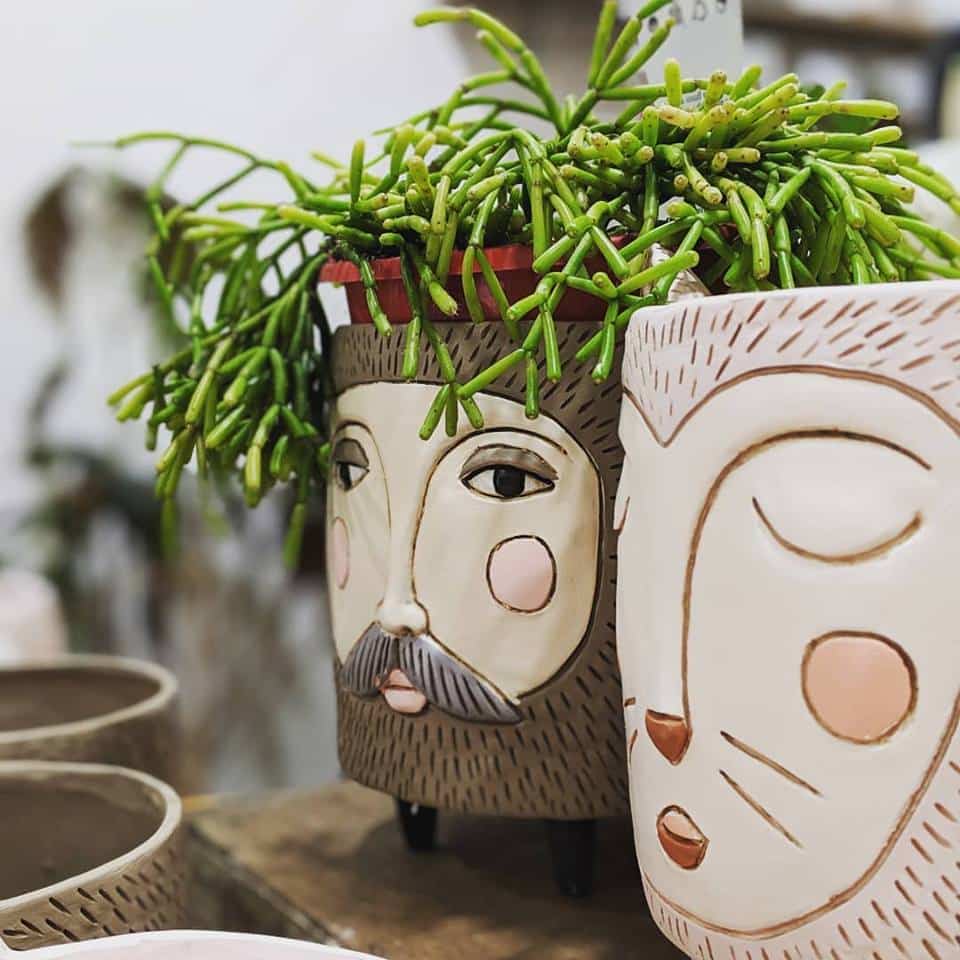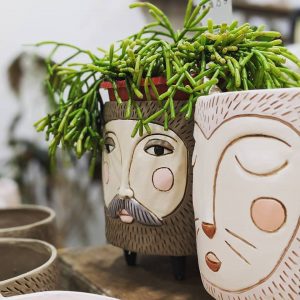 ABSEILING ONKAPARINGA GORGE
Abseiling is the art of descending a vertical cliff face using of ropes. Learn some tricky moves and enjoy a great day of challenge during the Adelaide Hills Abseiling Adventure. Your adventure takes place at the magnificent Morialta National Park.
(The package will occasionally take place at the beautiful Onkaparinga Gorge or The Bluff,
in picturesque Victor Harbor).
Step out of your comfort zone and onto the rock face
Departs Adelaide CBD SA
click here for booking link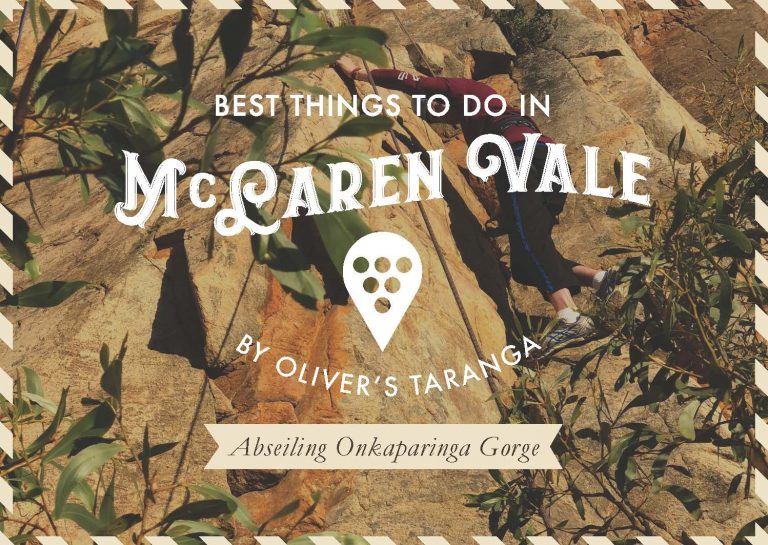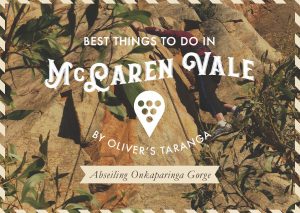 NEW SUSPENSION BRIDGE IN OLD NOARLUNGA
If you have a penchant for bridges and don't mind an outing in the fresh air, then this is a lovely local walk!
In a stormy 2016 the swing bridge over the Onkaparinga River was washed away. After much campaigning a new bridge has been built; sympathetic to the original with a modern twist. Suitable for all ages you can take the kids and grandma for a gentle stroll and finish up a the local playground for a picnic or BBQ for all the family.
Gephyromania – a person who has a passion for bridges.
Paringa Parade
Old Noarlunga, SA 5168