The Oliver's Taranga cousins are doing us proud rearing beef and collaborating with 36 ° South- Tey's meats in the South East of South Australia.
Not only are they producing the finest cuts of meat we are proud once again to report that all the cattle is reared and handled with the best animal welfare as a priority.
We would like to celebrate at Oliver's Taranga with our new Beef Party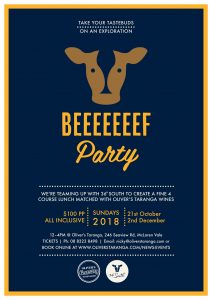 A four course lunch starring our very south east Oliver raised on-a-spit matched with a selection of Oliver's Taranga Wines. These are very popular events- so get your mates together and book early!
21st October 2018 12pm-4pm
2nd December 2018 12pm-4pm
Oliver's Taranga, 246 Seaview Rd, McLaren Vale
$100 per person (all inclusive)