2021 Vermentino
$27.00
Continue Shopping
THE YEAR THAT
Corrina's bulldog Marj joined the team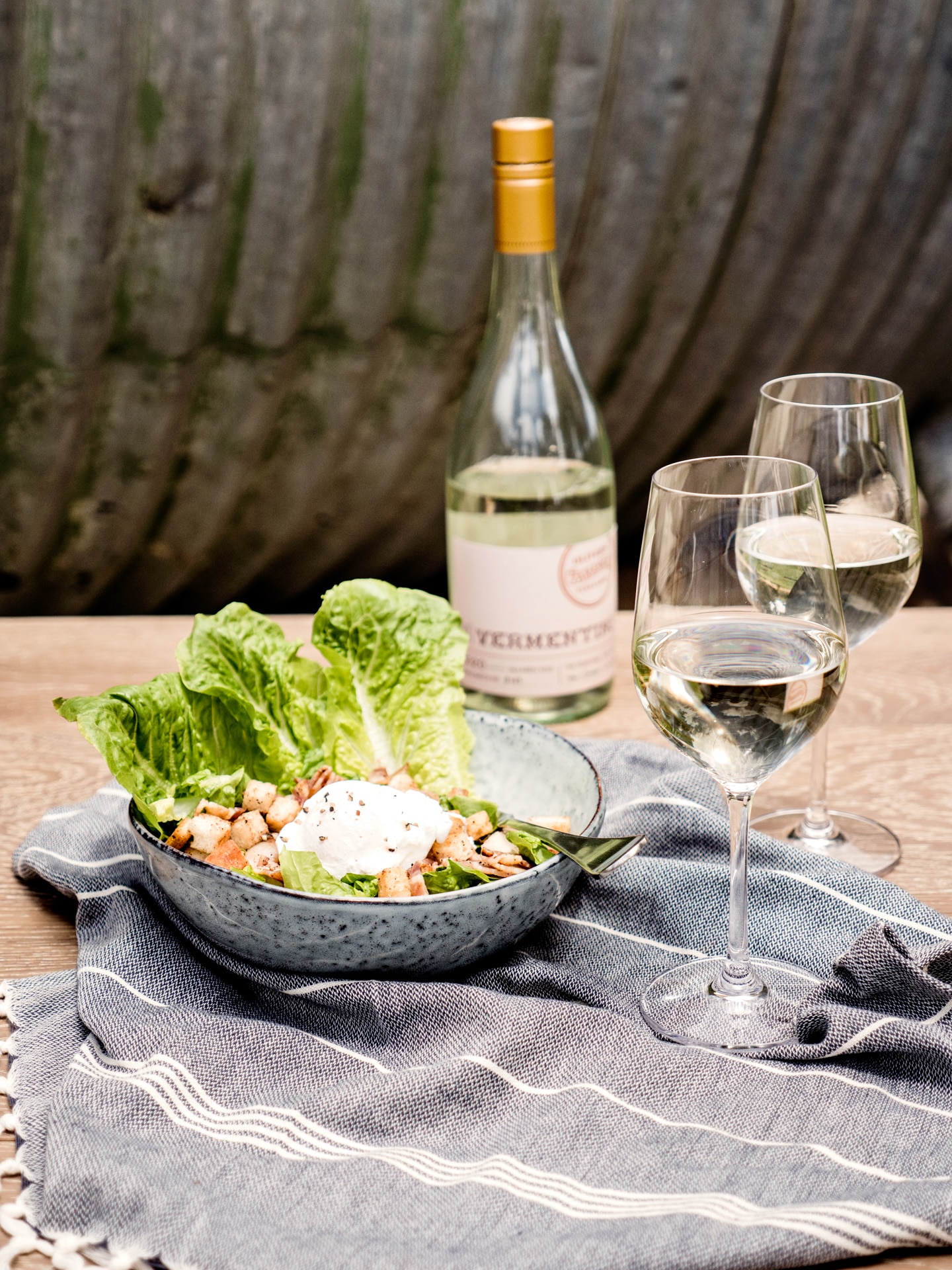 This Vermentino is a light, fresh and crisp little number that will make you feel like an invigorating sea breeze is whipping through your hair. Smash it down with anything fresh from the sea or a spicy Vietnamese salad.
AROMA
Talcum powder, a squeeze of lemon over fresh fish, mandarin, honey, fresh lychee and oyster shell. Makes your mouth water like rain on warm asphalt....or maybe that's just me!!
PALATE
Zesty lemony acid, fresh honey florals and sea breeze, touch of fruit tingle on the finish. Talcum powder tannins give a savoury line. No brainer with fresh seafood!
WINE & VINTAGE
A native of Italy, Vermentino is generating a lot of interest in the wine community due to its heat tolerance and ability to produce beautiful crisp and fresh wines, perfect for the Australian palate. This minimal intervention Vermentino is
made with indigenous yeast, has no added acid and is made without the use of oak.
HISTORY
With 100 ha of premium grapevines on the Taranga property, the Oliver family has over 50 blocks representing different grape varieties, clones, soil types & vine ages. Each vintage, different varieties & blocks
will show their strength and from this has
been born the 'SMALL BATCH' range.
Made in small batches of less than two tonnes, these wines have been handcrafted to speak of both the variety and the vintage in which they have been produced.
WINE MAKER

Corrina Wright, 6th Generation
SMALL BATCH PRODUCTION
13321 bottles
GRAPE VARIETY
100% Vermentino
(pron. VERM-IN-TEENO)
REGION
100% McLaren Vale
COLOUR
Pale Straw
ALCOHOL
12%

WHAT THE WRITERS HAVE TO SAY
2021
Dangerously refreshing, arm yourself with this when things warm up as spring and summer come at you.
Once tipped in the glass, vibrant aromas of lemons and white flowers explode. Scents of sea spray skip about too. Clean and crisp through the mouth, those citrus fruits sizzle. Some tonic and cucumber add further appeal with a dainty minerally drive. A slight lime pith texture crawls through and gives you something to ponder. Seafood with your toes in the sand - this is your weapon. Charge forth!
Drink now.
92 points
Vermentino is a grape primarily found in Sardinia and Corsica, but is making itself very much at home in warm Australian wine regions, where it produces crisp and fresh dry wines. This was one of three impressive 2020 new releases from sixth-generation winemaker Corinna Wright at Oliver's Taranga in McLaren Vale. The other duo were a delightful fiano and a feisty mencia rosé but this was my favourite by a short half head. It is unoaked, fruity, zippy and zesty and a perfect partner for seafood dishes. Damn good value, too. And very refreshing.
July 9th 2020
This has a vibrant array of fresh lemons, sliced pears and some light herbal accents with a palate that delivers such sleek, smooth and fresh lemon and pear flavors. So fresh and vibrant. Love the piquant finish.
92 points
Pale lemon hues. Lifted nose, mango and guava with sea spray hints. Citrus fruits drive attack and then rolls into some oyster-shell savoury layers. Touch of flint-smoke as well. Texturally complex with high-toned acid, mid-palate weight then a drying phenolic finish. Lovely tension between sweet and savoury.
93 points