We have teamed up with our awesome friend Sarah who runs an amazing whole food catering business called 'Real Food Life'.  On the weekends we will be offering her colourful displays of local produce and amazing raw treats to our customers on weekends.
Whether you need platters to graze on throughout a group tasting out on the deck, or my favourite are the delicious produce boxes which can be neatly packed up and taken to your next destination.  We cater for 2 -15 people with plenty of options.
Click on our booking link for more information. >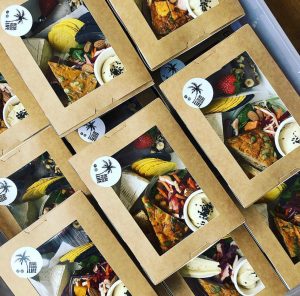 Read more on Sarah's healthy philosophy and vision for the Fleurieu ……..
REAL FOOD LIFE HAS THE VISION TO INSPIRE HEALTHIER COMMUNITIES BY CONNECTING PEOPLE TO REAL FOOD.
Based on the Southern Fleurieu Peninsula in South Australia. Real Food Life was founded by Sarah Mitford-Burgess in 2014.  Sarah has worked extensively within the health and hospitality industry up and down the east coast of Australia and after moving to the Fleurieu 5 years ago, saw an opportunity to provide the loacals and visitors of the region with real, wholesome and nourishing food that is convenient and a healthy alternative to takeaways.  Real Food Life provides a variety of food that can cater for a broad range of dietary needs such as gluten free, dairy free, vegan, vegetarian and paleo. Since opening, the business has sprouted organically over the years a demand for healthy, local food options is becoming more of a priority for many in the community.
"I get so much joy form creating food that is nourishing and offering it to the community.  It's my service it's my passion it's now become a large part of life! When people realise healthy is tasty, my job is done! It often leads to people connecting what they eat effects how thye feel, how their energy changes and realise how enjoyable it is to share vibrant food with their families and friends. Their thriving is sparked" – Sarah
Real Food life has a focus on using local and organic produce where possible. When we eat with the seasons and with what is available our bodies remain in tune with the rhythms of nature.
Visit Real Life Food instagram to see other delicious catering options >