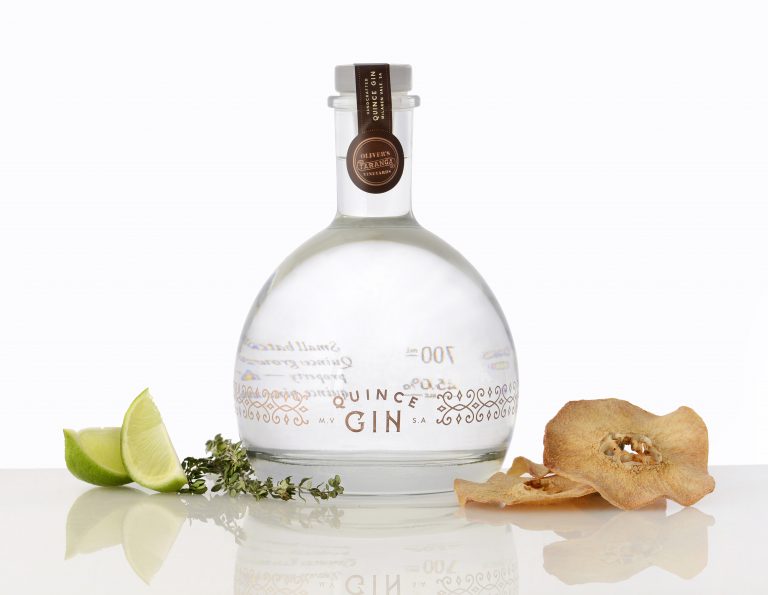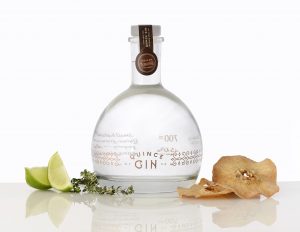 Most of you would agree that 2020 has been an absolute ride. Never have we been more confused on whether we should be grateful and thankful, or show you the fading blue/yellow of the post COVID bruises. But, as we all rise out of the bushfire ashes and pandemic we think a 'good news' story is needed. As you cheers your first sip of the 'Quince Gin' we hope that the rest of 2020 is a cracker. Written in the spirit of Corrina's COVino Diaries.
The spirit of gin making
Sometime 18 months ago
Nicky wriggling in desk chair "Let's make a gin'
OT crew response – ???????? -unconvinced
Sometime in January 2020
Nicky decides to 'line up all her ducks' before re-saying "Let's make a gin". Finds a celebrated, unsuspecting distiller to hold her hand through the process. Let's her mates in glass talk her into a bottle not used yet in Australia. Orders and waits patiently to come from France. Gets David Byerlee to create a design reminiscent of some of our 1800's William. H. Hammer & Co. portrait photography covers.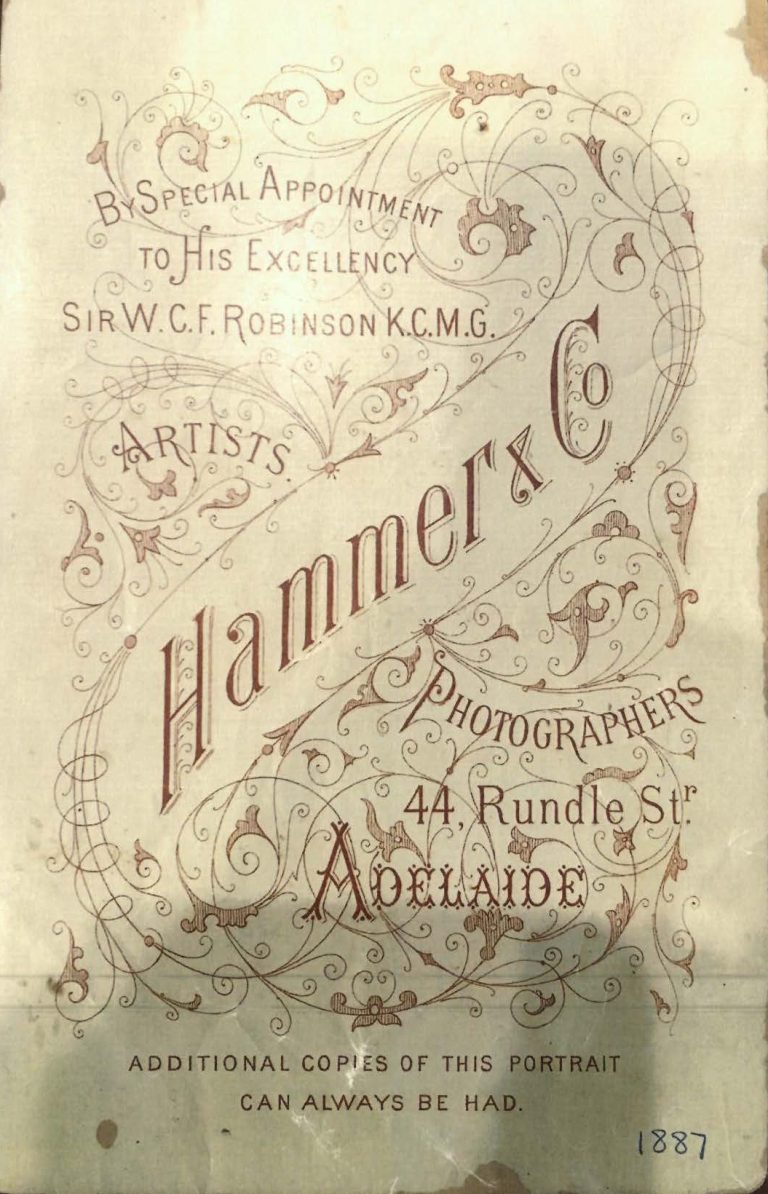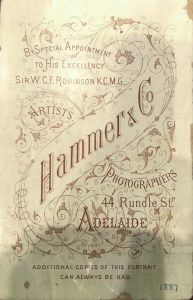 Shows screenprinters the concept of the bubble bottle. Response 'not enough surface area'. Boss man and dead-set legend Dave Lucas from Glass Print rings and says he's up for the screenprint challenge. Opt for a glass Vinolok closure. The particular closure to fit is only available from the Czech Republic. Orders. Neck label needs to be cool, informative and anti tamper. Tries every paper adhesive application known to man. Decides on heavy metal. No musical context implied.
Sometime in early February 2020
Nicky enquires about spirit tax excise applied on distillation. Choked on her sushi lunch ???? when she finds out the cost per litre of alcohol. Decides to sleep on it.
One day after that sometime in early February 2020
Nicky has recovered and thinks the project has legs. Creates a spreadsheet to convince the board to back it. Sam Oliver (new working family member) makes spreadsheet look super cool.
Board said yes! Woohoo!
Early March in 2020
Picks 250kg of quinces from the Taranga Orchards. All systems go!
Mid March 2020
COVID hits…but feel unaffected. Just a storm in a teacup. Continues picking.
22nd March 2020
First stage COVID restrictions hit. S$#t hits the fan. Bottles and closures are in mid global journey somewhere? Legitimate concern for cashflow. We put all design/distilling services on hold and put quinces in cold storage to buy some thinking time. (Thanks McCarthy's Orchard).
Mid/late April 2020
Rode the waves and changes. We agreed on distilling a smaller portion and to proceed. OT tribe appeared to be enjoying a few drinks at home. Turns all the jobs back on and proceed.
Late April 2020
Binged watched the 'Last Dance' while peeling 20/30kg of sweet oranges from the Taranga Orchard. Decides that would be a great accompaniment to quinces and the other botanicals included in the gin.
Early May 2020
After several trips to Virginia and some blending we decide on final recipe.
Wait for all the 'COVID blamed' hold ups on dry goods..and wait patiently for various customs to reawaken.
June 2020
The moon and stars aligned or perhaps factories and docks just reopened. Let's get this baby bottled. So fun!
We hope you enjoy our tiny run of 'Quince Gin'. Please read on, for the botanical characteristics included and of course a cocktail suggestion.
……………………………………………………………………………………………………….
Quince – a highly fragrant fruit, followed by an elevated tartness in the background. Taranga Orchard quinces.
Juniper traditional pine notes, herbaceous, green, fresh and slightly waxy.
Orange peel a complexity of citrus notes and a touch of bitterness. Taranga orchard oranges.
Coriander nuanced once distilled. Also a little nutty and a little spicy.
Cinnamon hot, sweeter taste with an earthiness spice.
Cardamon spicy sweet flavour with a lemony scent. Smokiness.
Angelica earthy, woody, flavour binding.
Pepper spicy warmth
……………………………………………………………………………………………………….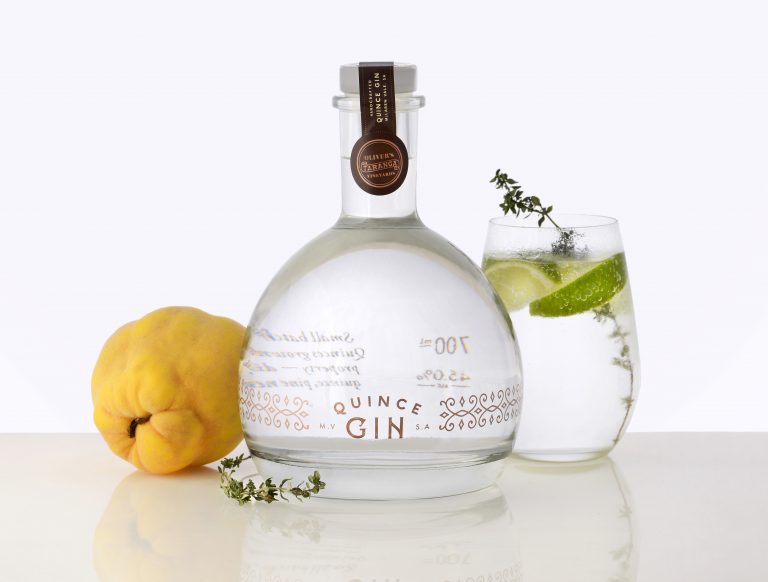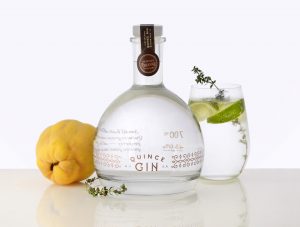 Lime, thyme & quince gin cocktail
50ml quince gin
Juice of 1 lime
1 sprig of fresh thyme
Tonic to taste – we recommend Fevertree mediterranean tonic
Vigorously roll your lime before squeezing out every drop of lime juice. Pop in a sprig of thyme and bruise together and then strain into a serving glass.
Add your quince gin to the mix and top up with tonic to suit your taste. If you want to be fancy add an additional sprig of thyme to garnish. Addition of ice cubes is optional.