Oliver's Taranga were recently honoured to be part of 'Xero' Small Business Insights special report: Pandemic Insights: Small Business Experience. The report highlights the economic impact of the pandemic and some of their key markets.
The finding are based on a sample of 300,000 Xero subscribers records and show the effect of COVID-19 on small business revenues and jobs in New Zealand, Australia and the UK.
Please click here for the full report >
Please enjoy the three page feature on Oliver's Taranga Vineyards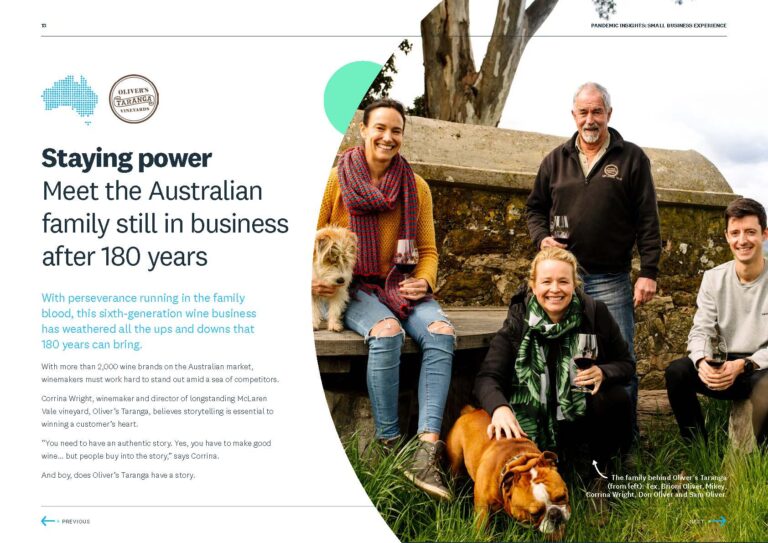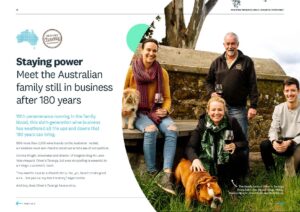 With perseverance running in the family blood, this sixth-generation wine business has weathered all the ups and downs that 180 years can bring.
With more than 2,000 wine brands on the Australian market, winemakers must work hard to stand out amid a sea of competitors. Corrina Wright, winemaker and director of longstanding McLaren Vale vineyard, Oliver's Taranga, believes storytelling is essential to winning a customer's heart. "You need to have an authentic story. Yes, you have to make good
wine… but people buy into the story," says Corrina. And boy, does Oliver's Taranga have a story.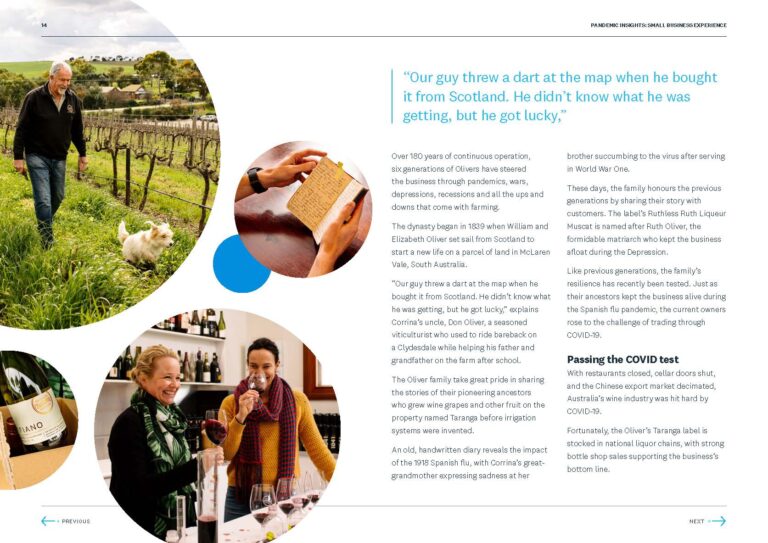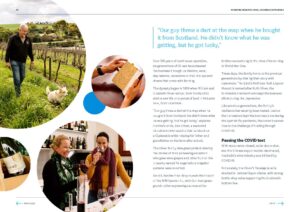 "Our guy threw a dart at the map when he bought it from Scotland. He didn't know what he was getting, but he got lucky,"
Over 180 years of continuous operation, six generations of Olivers have steered the business through pandemics, wars,
depressions, recessions and all the ups and downs that come with farming. The dynasty began in 1839 when William and
Elizabeth Oliver set sail from Scotland to start a new life on a parcel of land in McLaren Vale, South Australia. "Our guy threw a dart at the map when he bought it from Scotland. He didn't know what he was getting, but he got lucky," explains Corrina's uncle, Don Oliver, a seasoned viticulturist who used to ride bareback on a Clydesdale while helping his father and grandfather on the farm after school. The Oliver family take great pride in sharing the stories of their pioneering ancestors
who grew wine grapes and other fruit on the property named Taranga before irrigation systems were invented.
An old, handwritten diary reveals the impact of the 1918 Spanish flu, with Corrina's great grandmother expressing sadness at her brother succumbing to the virus after serving in World War One.
These days, the family honours the previous generations by sharing their story with customers. The label's Ruthless Ruth Liqueur Muscat is named after Ruth Oliver, the formidable matriarch who kept the business afloat during the Depression.
Like previous generations, the family's resilience has recently been tested. Just as their ancestors kept the business alive during the Spanish flu pandemic, the current owners rose to the challenge of trading through COVID-19.
Passing the COVID test
With restaurants closed, cellar doors shut, and the Chinese export market decimated, Australia's wine industry was hit hard by COVID-19. Fortunately, the Oliver's Taranga label is stocked in national liquor chains, with strong bottle shop sales supporting the business's bottom line.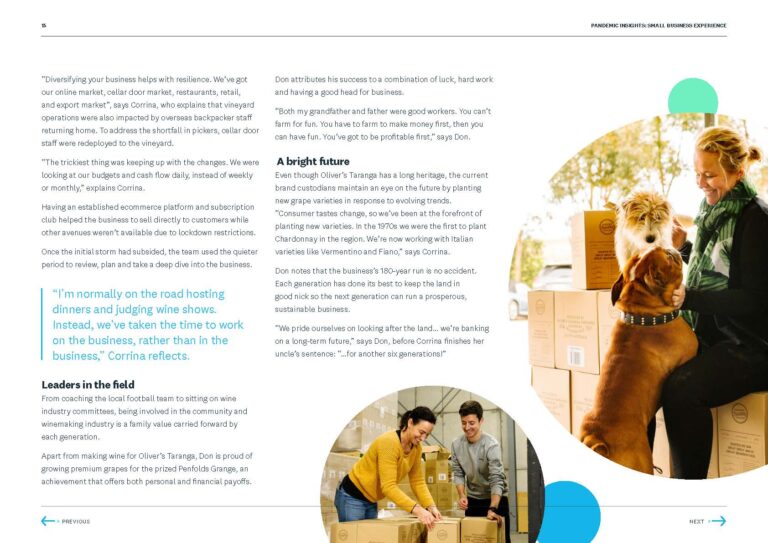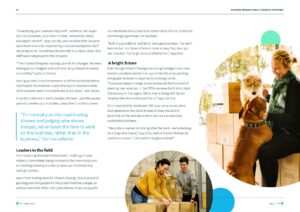 "Diversifying your business helps with resilience. We've got our online market, cellar door market, restaurants, retail, and export market", says Corrina, who explains that vineyard operations were also impacted by overseas backpacker staff
returning home. To address the shortfall in pickers, cellar door staff were redeployed to the vineyard. "The trickiest thing was keeping up with the changes. We were looking at our budgets and cash flow daily, instead of weekly
or monthly," explains Corrina. Having an established ecommerce platform and subscription club helped the business to sell directly to customers while other avenues weren't available due to lockdown restrictions. Once the initial storm had subsided, the team used the quieter period to review, plan and take a deep dive into the business.
Leaders in the field
From coaching the local football team to sitting on wine industry committees, being involved in the community and
winemaking industry is a family value carried forward by each generation. Apart from making wine for Oliver's Taranga, Don is proud of growing premium grapes for the prized Penfolds Grange, an achievement that offers both personal and financial payoffs. Don attributes his success to a combination of luck, hard work and having a good head for business. "Both my grandfather and father were good workers. You can't farm for fun. You have to farm to make money first, then you
can have fun. You've got to be profitable first," says Don.
A bright future
Even though Oliver's Taranga has a long heritage, the current brand custodians maintain an eye on the future by planting
new grape varieties in response to evolving trends. "Consumer tastes change, so we've been at the forefront of planting new varieties. In the 1970s we were the first to plant Chardonnay in the region. We're now working with Italian varieties like Vermentino and Fiano," says Corrina. Don notes that the business's 180-year run is no accident. Each generation has done its best to keep the land in good nick so the next generation can run a prosperous, sustainable business. "We pride ourselves on looking after the land… we're banking on a long-term future," says Don, before Corrina finishes her
uncle's sentence: "…for another six generations!