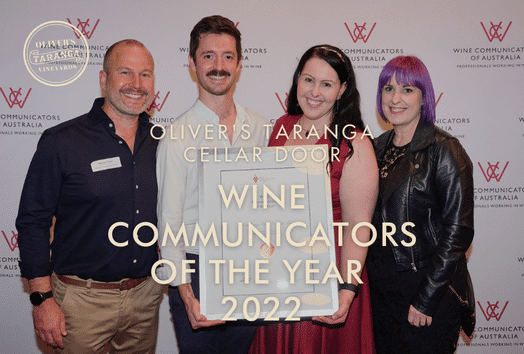 Topping off a purple patch for the Oliver's crew, on the evening of the 23rd November the Oliver's Taranga Cellar Door team were awarded Best Wine Communicator – Cellar Door at the annual Wine Communicators Awards in Sydney.
And as if that wasn't already impressive enough, winning such an award up against so many other fantastic Cellar Doors around the country, the Oliver's Taranga Cellar Door Team was also named overall Wine Communicator of the Year.
Judges' comments regarding the application were full of praise for not only the passion and enthusiasm
of the team in telling the brand's story, but also for the professionalism of the multi-channel approach
the team had to ensuring that story transcended the physical experience.
The Cellar Door team of Mark, Lee & Mel, alongside General Manager Sam Oliver went along in person to accept the awards, enjoying a fantastic night at Sydney Urban Winery.
After a year in our new Cellar Door, this is a fantastic endorsement of every effort our team puts in to make our guests feel welcome and connected to Oliver's in the long term.
So don't hesitate, come and experience the award-winning Oliver's Taranga wines and hospitality first-hand, customers can visit the Cellar Door in McLaren Vale for one of several tasting options, including the immersive Taranga Terroir guided tasting experience that takes visitors on golf cart 'Ollie' through the surrounding vineyards.
Wine Communicators of Australia was established as a national not-for-profit company in December 2010 growing
out of the well-respected Wine Press Clubs of New South Wales, Victoria and South Australia. Its purpose is to be
Australia's pre-eminent organisation connecting business professionals working with wine and currently has more
than 600 members.
SHARE WITH FRIENDS