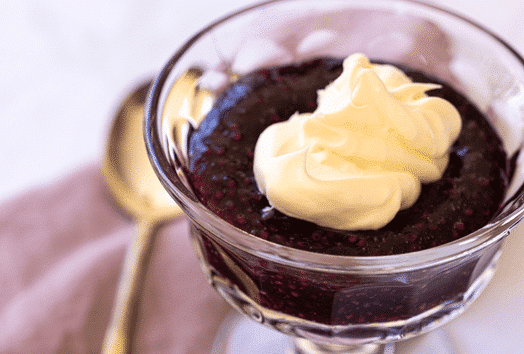 Turning ripe wine grapes into a delicious pudding!
Continuing our journey through Gran Marjorie's memorable recipes, we bring you Rotegritze, a recipe made for vintage time when ripe wine grapes are plentiful.
Taking an imperial gallon of either Shiraz or Mataro grapes, this recipe makes a delicious and refreshing pudding to end the meal!
Another great example of making the most of fruit in season.
Enjoy!
Corrina, Brioni, Sam and the OT Team
Recipe (Serves 4-6pp)
Ingredients:
1 gallon (3kg) black wine grapes (Shiraz or Mataro)
1 pint (600ml) water
1 cup of Sago
1 1/4 cups sugar
Chilled cream to serve
Method:
Remove stalks from grapes
Press grapes with hands into saucepan to extract some juice
Add pint of water to saucepan
Bring to boil and simmer for 15mins
Put grape solids through a colander, pressing with the base of a glass so all skins and seeds are left behind
Return the resulting liquid to the pan
Add a rounded cup of Sago & sugar to pan
Boil until sago is clear, stirring all the time
Serve cool or slightly chilled with cream
​Remember to take a pic and share on socials @oliverstaranga
​Remember to take a pic and share on socials @oliverstaranga
SHARE WITH FRIENDS