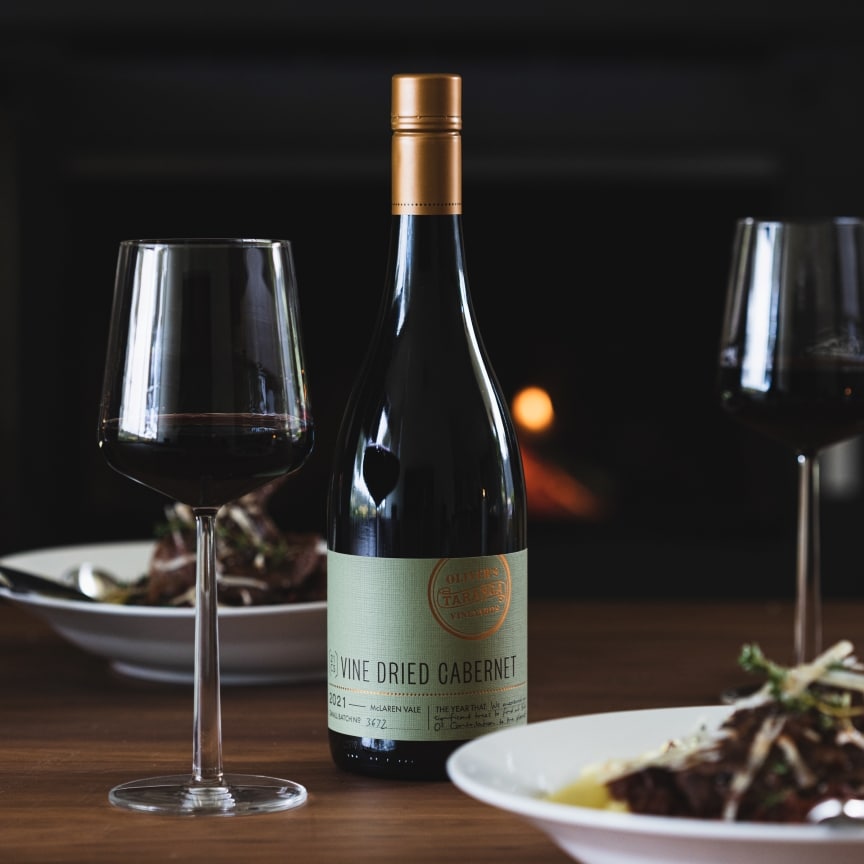 We finally heard all your calls for more or our rare beast, the Vine Dried Cabernet, only made in 2006, 2013, 2017 and now 2021.
Inspired by the 'Amarone' method that has been used for centuries in Italy, a portion of our Cabernet vineyard was handpicked and then dried in air racks for 12 days.
After the berries concentrated and dehydrated, we popped them straight into the fermenter. Freshly picked grapes were then crushed on top, and the yeasties got down to fermentation as normal.
This means that the resultant wine has very concentrated Christmas pudding characters, with deep dark tannins and higher alcohol than usual. The Vine Dried Cabernet will age forever…. if you can stop pulling it out of the cellar!!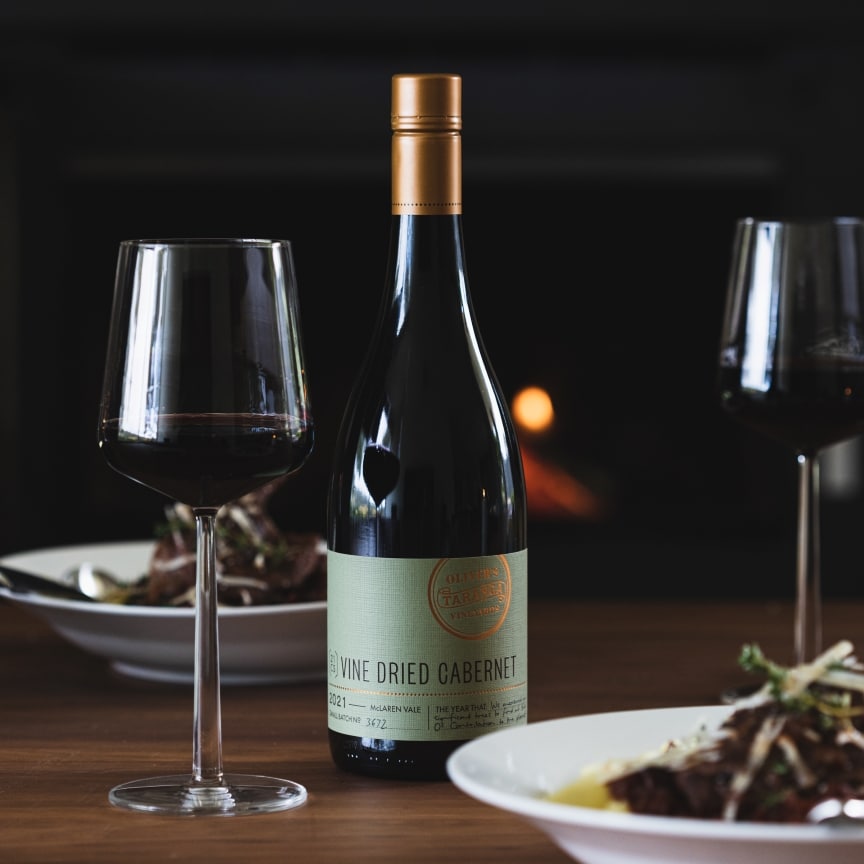 "Winemaker, Corrina Wright, is getting her Italian winemaking skills on to produce an Amarone-method style of Cabernet in the Vale. She has borrowed from Amarone della Valpolicella where grapes are picked, dried for an extended period until they have lost a lot of liquid and then slowly pressed and fermented. Corrina has embraced similar methods and produced one wild vinous ride: 15.5% in alcohol, super rich, dark and savoury. Earth, leather, dark spices, truffle and mushroom fill the senses on the first sniff. This is Cabernet as you rarely taste it. Flavours of fruitcake with slivers of sweet cherry nougat before the grape's herbals and ripe tannins come into play. The finish arrives in a flurry of chocolatey, woodsy spice. You might say there's a lot happening in this wine." 92 points, Jeni Port
TASTING NOTE
COLOUR: Deep Maroon
AROMA: Stewed mulberry, aniseed spice, liqueur cherries and dried herbs.
PALATE: Rich and mouth-filling, prunes and blackcurrant stems, nougat and cherry flavours abound. Encased in structural tannins, the aniseed character continues through the palate. All the Christmas pudding memories flood back. Very moreish and loads of cellaring life for those who like to age their wines.
THE YEAR THAT: In 2021 we were thrilled to join with a number of McLaren Vale wineries and businesses to form the 'McLaren Vale Cellar Door Tree Trail'. We all received worked with Willunga Environment Centre to identify and measure significant trees on our properties. Each tree now bears a tag that shows the species, age and height of the tree as well as the importance of the tree in relation to climate control evidence and other biodiversity factors.
How did we start our journey with Vine Dried Cabernet?
The Oliver's Taranga journey with the Vine Dried Cabernet began in 2006, when Corrina was inspired by the Italian classic Amarone style.
Brioni certainly recalls the first year the girls attempted the style in 2006, which went off almost without a hitch, leaving the grapes to dry on the vine, which were then almost effortlessly harvested. This potentially created a false impression of how much extra work this wine style required.
Needless to say the next time they tried this, it didn't work at all, and the team had to make the decision to transfer grapes to individual trays to dry instead, true to the original Amarone style. More work, but much easier to control the resulting wine.
If you are not familiar with the style, Amarone is originally from the Valpolicella region in Italy. It is a wine style where grapes are harvested then allowed to dry on racks, a process called appassimento or rasinate (to dry and shrivel) in Italian. This concentrates the remaining sugars and flavours thanks to the water evaporation. It makes for a very intense style of wine, which has garnered many fans over the years.
Corrina, Brioni, Sam and the OT Team
SHARE WITH FRIENDS