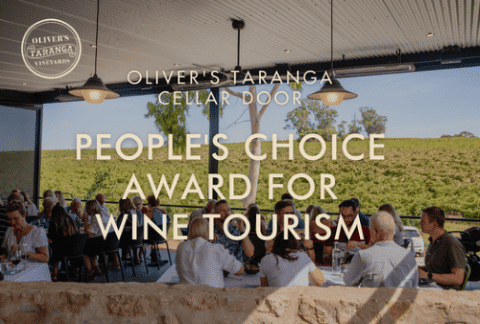 On the 23rd November, in Mendoza, Argentina, the Oliver's Taranga Cellar Door was announced as the winner of the People's Choice Award for Best of Wine Tourism Services in the Global Great Wine Capitals Best of Wine Tourism for 2023.
The Best of Wine Tourism Award global winners, selected by an expert global panel, also invited the public to show support for extraordinary wine tourism experiences.
Oliver's Taranga Vineyards won the public vote in the Best of Wine Tourism Services category, which is for wineries or vineyards that excel in their cellar door service offering. The cellar door experience must stand out as memorable and the venue must offer a personal experience that sets it apart from its competitors.
Oliver's Taranga Vineyards is a sixth-generation family-owned business in the heart of McLaren Vale. The Oliver family produce a collection of small-batch, handcrafted wines from their 100-ha property, hosting guests in a newly renovated Cellar Door that cleverly incorporates their original heritage cottage.
The Best of Wine Tourism Awards are a celebration of wine tourism and recognise excellence in global wineries and wine tourism experiences. South Australia is a member of this prestigious Great Wine Capitals Global Network.
Membership to the network acknowledges excellence in grape and wine production and highlights the world's finest wine tourism regions.
Minister for Primary Industries and Regional Development Clare Scriven MLC said "Congratulations to Oliver's Taranga Vineyards on being the only winners from outside Europe in the Best of Wine Tourism People's Choice Awards.
"More than 4,200 people around the globe cast their vote, it is absolutely fantastic that a South Australian family-owned winery stood out among the best of the best.
"This is further proof that South Australia's wine tourism offering is world class," Scriven continued.
Minister for Tourism Zoe Bettison said "It is a wonderful testament to South Australian wine and wine tourism experiences to have one of our state's wineries voted as the best by people across the world.
"Oliver's Taranga Vineyards is an exceptional operator in McLaren Vale in the Fleurieu Peninsula, and with the support of a South Australian Tourism Commission grant, its new $1 million cellar door and wine education hub is helping make the visitor experience even more special.
"Wine continues to be a major tourism drawcard for our state, and it is world-class operators like Oliver's Taranga which are putting South Australia on the global stage," Bettison said.
Corrina Wright, Winemaker and Director at Oliver's Taranga Vineyards said "It's such a thrill to be named a people's choice winner in the Best of Wine Tourism Awards.
"This shows the calibre of South Australian wine industry, and the wine tourism experiences we offer are on par with the best around the world. Congratulations to the whole Oliver's team on this achievement," Wright continued.
It formally recognises South Australia as one of the top wine producers and wine destinations in the world and benchmarks against prestigious regions such as Bordeaux and the Napa Valley.
Since 2003, the Great Wine Capitals' Best of Wine Tourism Awards has shone a light on the quality craftsmanship of wine tourism businesses across Adelaide (Australia), Bilbao & Rioja (Spain), Bordeaux (France), Cape Town, Cape Winelands (South Africa), Lausanne (Switzerland), Mainz & Rheinhessen (Germany), Mendoza (Argentina), Porto (Portugal), San Francisco, Napa Valley (USA), Valparaiso, Casablanca Valley (Chile) and Verona (Italy). This year's contest attracted 531 entries.
SHARE WITH FRIENDS