2020 Tempranillo
$32.00
Continue Shopping
THE YEAR THAT
We made a delicious gin from our Quinces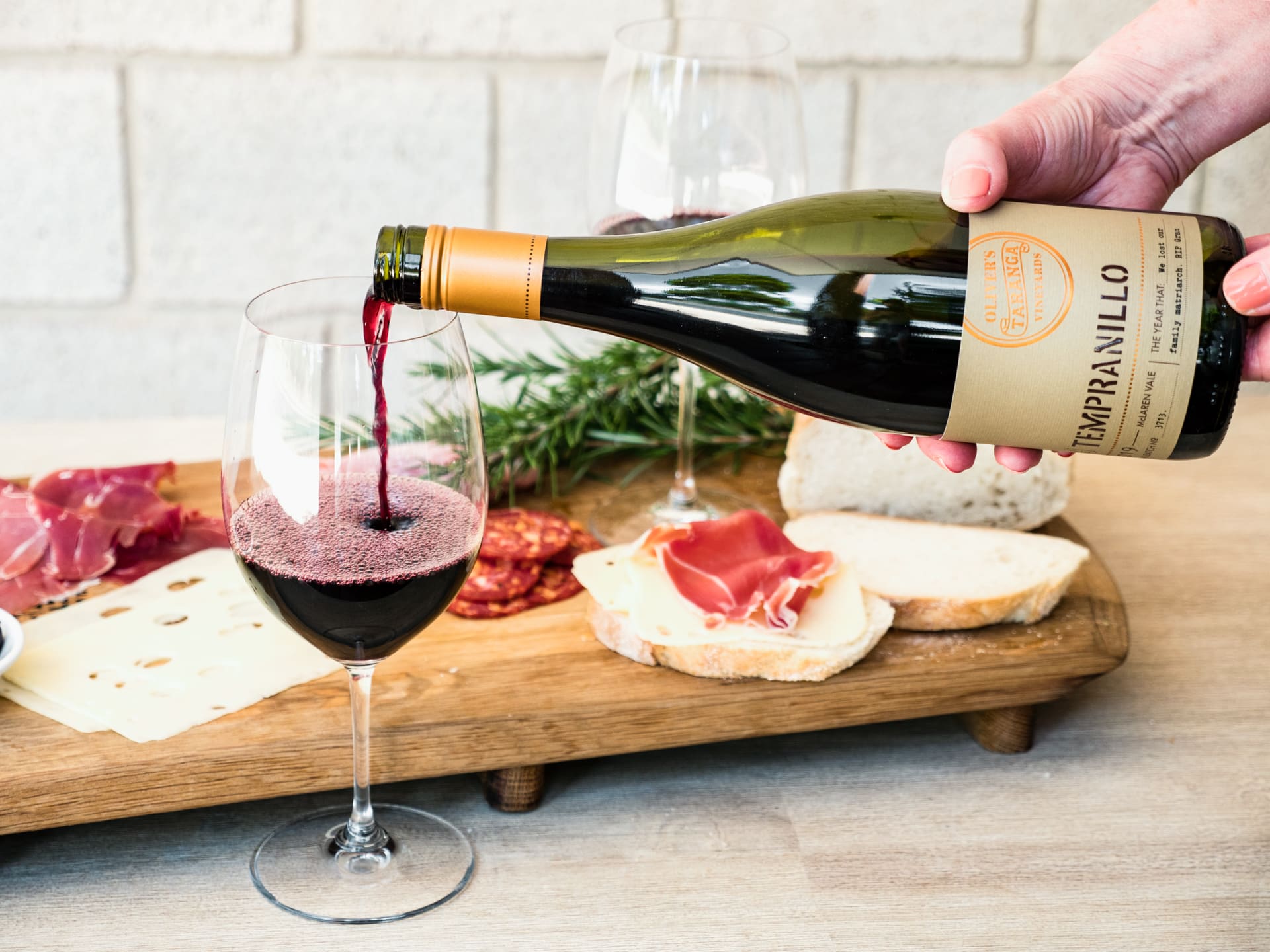 Embrace your Spanish side with this delicious Tempranillo (pron. TEMPRAN-ee- oh). All olives, tar and flowers on the nose, the palate is generous and rich, with earthy plummy fruit- just how we imagine a matador would taste! Hold a fiesta, cook up some tasty tapas and ole paella!
AROMA
Quince paste, charcuterie, plum jam, aniseed and blood orange.
PALATE
Plum and cherry ripe, cola, mocha, dried herb and fresh sage. Rich and generous, with plenty of toasty tannin. Enjoy!
WINE & VINTAGE
Tempranillo is fast becoming a preferred variety in McLaren Vale, with its more
savoury notes and rustic charm. 2020 was a challenging vintage. There was a significant lack of rain through winter and spring, and an early heat spike during grape set that resulted in a significant loss of crop. Hence, 2020 was an extremely low cropping vintage. It wont last long!
HISTORY
With 300 acres of premium grapevines on the Taranga property, the Oliver family has
over 50 blocks representing different grape varieties, clones, soil types & vine ages. Each vintage, different varieties & blocks will show their strength and from this has been born the 'SMALL BATCH' range. These wines have been handcrafted to speak of both the variety and the vintage in which they have been produced.
WINE MAKER

Corrina Wright, 6th Generation
SMALL BATCH PRODUCTION
4882
GRAPE VARIETY
100% Tempranillo
(pron. Tempran-ee-oh)
REGION
100% McLaren Vale
COLOUR
Bright maroon
ALCOHOL
14%

WHAT THE WRITERS HAVE TO SAY
2020
This is a matador looking for a bull to accompany it to a bbq that would make Spain proud, and a feast for the neighbouring farm.
94 points
Pizza night comes calling. It was homemade pizza in this case and it's Tempranillo all the way!
A fab food wine particularly if there is something meaty involved. Prosciutto Di Parma in this case. Think choc dipped raspberries, pan juices, cured meats, dark cherries and cola. There's a softness about it with a smooth delivery finishing with flashes of dried herbs. Enjoyable and then some.
90/100
On the 100-hectare 'Taranga' property in McLaren Vale the sixth generation of the Oliver family grow Aussie classics such as Shiraz and Cabernet Sauvignon but also lesser-planted varieties including Mencia, Touriga Nacional and Tempranillo, which were introduced 25 years ago due to their drought resistance. The Tempranillo is smoky and rich with bacon fat, ripe cherry and plum characters. Soft, fine tannins give is a velvety mouthfeel and delicate finish.
Tasted by Chris Wilson(at B1, London, 21 Jan 2020)
Part of Iberian reds from Australia: Top picks
92/100